The Sunshine Coast Wardrobe Door Professionals
Elite Glass Services offers a wide range of stylish and uber-modern robe doors in order to suit different decor requirements. The different robe door options provided by us include sliding, mirrored, sliding, painted and vinyl and gyprock doors. If you are not sure about which one to choose, we can help you in selecting the most appropriate option, customise it according to your requirements and ensure an expert installation job.
Go through the various types of robe doors provided by us given below.
Need To Talk To An Expert?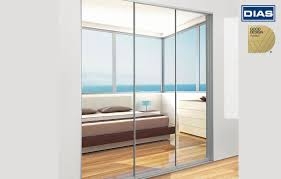 Sliding Mirrored Wardrobe Doors
Mirrored robe doors are perfect to go with contemporary spaces as well as minimalist design trends where each and every feature plays an aesthetic role. Even if you have a classic, industrial, traditional, art deco or chic setting, our mirrored robe doors with anodised or powder coated aluminium frames would be more than ideal for it. They look incredibly amazing and perform excellently even after years of usage. The vinyl backed mirror helps to spread more light within a room and also creates the illusion of extra area.
Features:
4mm vinyl backing
Anodised or powder coated aluminium frame
High quality glass, manufactured as per Australian Standards
Durable finish
Sliding Mirror Robe Doors from Elite Glass Services provide a functional and refined solution, customised as per your requirements. Featuring slimline aluminium frames with corresponding narrow tracks that remain hidden within the frame and mirrors provided with a 4mm thick vinyl backing, they present a design suitable to be used as retractable dividers between rooms as well. By installing our sliding mirror robe door, you can be sure about having more space and creating a dramatic effect of additional area within your room.
Available in 6 different colours – white, black, ivory, chrome, brushed silver and gold.
Opt for our sliding mirror wardrobe doors and maximise the available space of a small room by eliminating the need for hinged doors. All of them feature aluminium framed mirrors with 4mm thick vinyl backing. A sliding mirror wardrobe door can bring more light into your room or even create an illusion of additional space. Whether you need two panels or an array of panels stretching from wall-to-wall for your larger storage requirements, our efficient and experienced team at Elite Glass Services can assist you in the following areas:
Suggesting an appropriate door design
Tailoring the product as per your specifications
Ensuring an expertly installation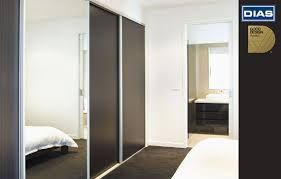 Mirror And Vinyl Robe Doors
Elite Glass Services provides a wide range of mirror and vinyl door options for buyers in Sunshine Coast. Change the appearance of your room by opting for our mirror or vinyl robe door. Manufactured with a highly reflective finish and vinyl backing, our mirror robe doors are capable of spreading the available light without taking up any floor space. On the other hand, our vinyl doors are made from top grade and extremely tough PVC vinyl, and also treated with antibacterial treatment for protection against mildew growth. Both the door types are very easy to clean and can last for a decade if cared for properly.
Why Choose Us?
Elite Glass Services is a top rated Sunshine Coast Glazier and Glasswork Specialist. Our fully qualified team has been installing residential and commercial projects for over 15 years. We specialise in windows and doors, security screens, shower screens, robe doors, mirrors and glass replacement or you can view our full range of products.
ABOUT OUR SERVICE AREA
Elite Glass is proud to call the Sunshine Coast home and work in this great area of Queensland, Australia. We service the whole of the Coast including Noosa, Sunshine Beach, Peregian Springs, Coolum Beach as well as Twin Waters, Bli Bli and Maroochydore.
We also service the southern end of the Coast so whether you live in Caloundra, Kawana, Mooloolaba or Nambour give us a call today!